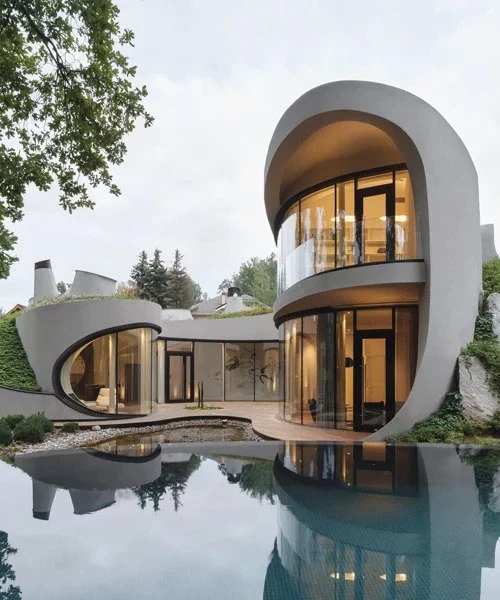 Being 'an organic architecture with a philosophy of metabolism,' the house is interconnected with its surrounding environment, and has been developed from the outside to the inside.
Progress
Architect has organized the interior based on the principle of integrating the 'home gallery' into the living space, utilizing the building frame as a backdrop for decor and art, sculptures, decorative elements with hidden japanese themes and symbolic forms. each piece of furniture is interpreted as an artwork, while art objects act also zone elements of residential and non-residential spaces, and are the tracers of movement direction.

'The panoramic molded windows do not prevent the focus from the site on the "history" that occurs in the house and do not destroy a single architectural field, which includes the exterior-interior and landscape solutions,' explain the architects.

The common living space is divided into three zones: a kitchen-dining room, an open area with a fireplace, and a coffee corner. the kitchen is visually separated from the main living area by a partition with a round hole, which adds to the continuous dialogue between the zones and nods to 'classical symbolism in japanese culture', according to the architects.

The open area also has a round, almost closed shape and is the compositional core of the interior, symbolizing two balanced halves – yin and yang. lighting is organized not only from a functional point of view, but is also the part of organic architecture, emphasizing the architectural features of the building.